2019 Japan VBS: Day 4 – Where Does the Time Go?
Posted on August 2, 2019 by Emi Ito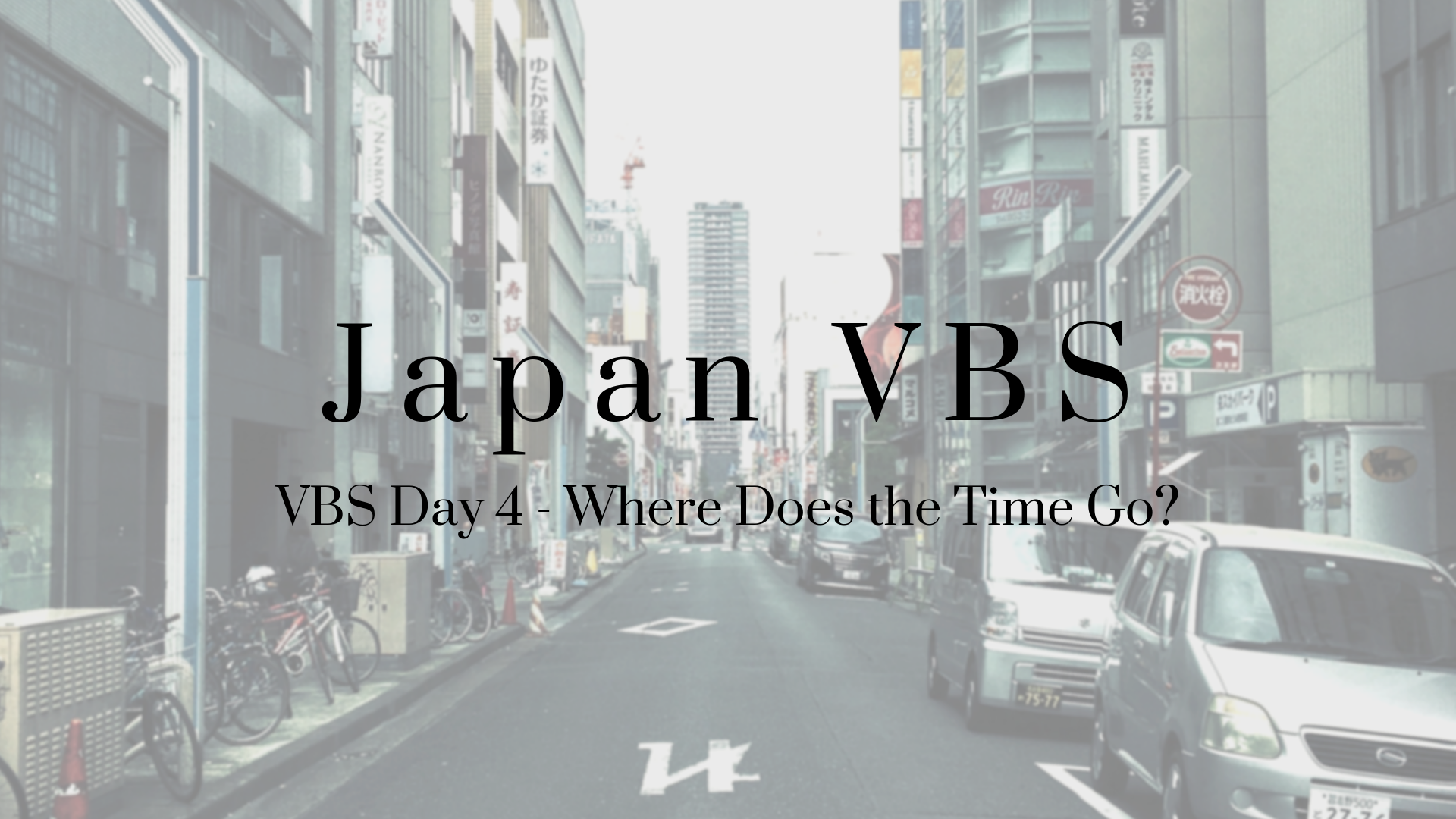 Tomorrow is the last day of VBS! The week has really flown by.  Thank you for praying for the gospel lessons today. The lesson today was "God loves you when you do wrong!" It is our prayer that the seeds planted today will take root in fertile soil, and that the children will know God's love personally.
Something that is different in Japan is the pace of life here. Everything seems to take longer. Even though VBS is only for the morning, running around the city to prep supplies for the next day takes us a surprising amount of time. Our day usually starts with us leaving the apartment at 7:30AM and winds down back at the apartment around 9:30PM! We often find ourselves wondering, "Where does the time go?" Things really seem to take longer here.
In some ways that also reminds us about ministry in Japan. From what we've seen, it can take time to build relationships and for people to come to faith. That being said, we trust in God's sovereign timing to save.
We are so thankful for all the people here who help us out daily. Even though we are the ones here to serve, it often feels like we are the ones being served. Some of you may remember Hide and Yasuyo when they interned at Lighthouse two years ago. They have been so gracious in running errands for us. As we are having a luau on Sunday, Hide and Yasuyo will be doing some late night shopping tonight for more supplies after their kids go to sleep. Their humility in serving is a reminder of God's love for us.
Tomorrow will be a busy day for us. We will have the last day of VBS, and after we will be cooking up a storm for the Sunday luau. We are expecting  over 70 people. We will also be moving location for where we will be staying at night. Christina and Machiko (and baby Eren) will also be arriving to join us!
Prayer Requests:
Some of the fathers and other family members who haven't been at VBS will join us for the luau! Please pray that the luau will be an inviting place for them.
For the children to continue to speak boldly about what they are learning with their friends and family.
As mentioned, there are a lot of moving pieces tomorrow.  We will be finishing up the last day of VBS, and then prepping all the food for the luau.  We are also expecting Christina and Machiko to join us.  We also need to pack and move out of the apartment where we are staying, and wash the sheets loaned to us.  Please pray that the day will go smoothly and for Christina and Machiko to get to Nagoya safely.
Thank you for praying!