Meet the Staff: Elder Gavin Kajikawa
Posted on March 9, 2017 by Clarence Tsai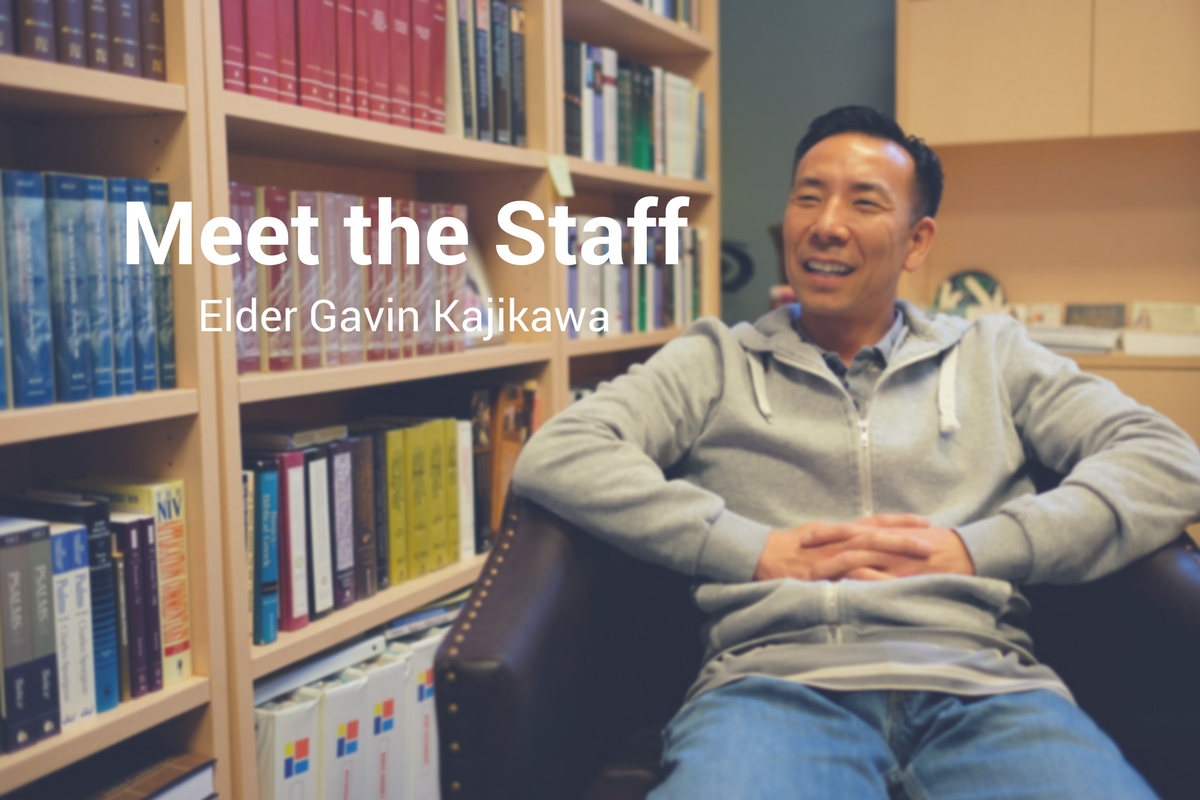 The first Wednesday of every month we will be having a "Meet the Staff" segment! It is our hope that getting to know the church staff would be an encouragement to you. This week is our very own elder Gavin Kajikawa!
Clarence: Hey!
Gavin: Hey!
Clarence: So why don't you tell us about yourself?
Gavin: So, I grew up in the city of San Gabriel. There is not much there… except the San Gabriel mission! (laughs) I have a mom and dad and a younger brother so I have always lived in San Gabriel – it's where I grew up. I am married to Lorraine… we will be coming around to 15 years now. We have two daughters Brielle (6) and Joylyn (5). It's been wonderful to hangout and be a family of four.
Clarence: Wow, 15 years! That is amazing. Any spiritual truth that you would like to pass onto your children?
Gavin: There are a lot of them. One of them that comes to mind is really just treasuring Christ. Really to find their joy in Jesus. I think, if they were able to say, "I treasure Jesus more than anything else," that would really color the way they see everything in life. For Lorraine and myself, that would bring us great joy.
Clarence: That's good. Pastor Gavin, could you tell us more about your role and some of your responsibilities as an elder here at Lighthouse?
Gavin: I oversee global evangelism. So that means helping target and coordinate current and future partnerships with other countries. Our two target countries are Mexico and Japan. So, basically, we are trying to meet up with different churches in these countries with the goal that we could help them grow and that we could be a blessing to them in their gospel efforts.   
Clarence: Thank you for doing that. You know Pastor Gav. I have to ask…favorite food?
Gavin: Hmmm… I like my rib eye steak. I also like anything you can put in a tortilla! (laughs) So anything taco related is awesome – carnitas, carne asada, or fish tacos. I also like sweets – danishes and churros, cookies and that kinda stuff.
Clarence: I also love all things tacos. Speaking of loves, I heard you LOVE the Lakers! 
Gavin: I do love the Lakers. I love things LA! I love the Lakers, I love the Dodgers, I love the LA Galaxy. Those are the three big teams. The LA Kings, as well. Actually, it's kinda interesting – here's a fun fact! I have been a Dodger fan even before the Dodgers were in LA.
Clarence: Wait. Really?
Gavin: My grandfather was in construction and helped build Dodger Stadium! So you could say our family is blue collar in two different ways… working in construction… and following the Dodgers! (laughs)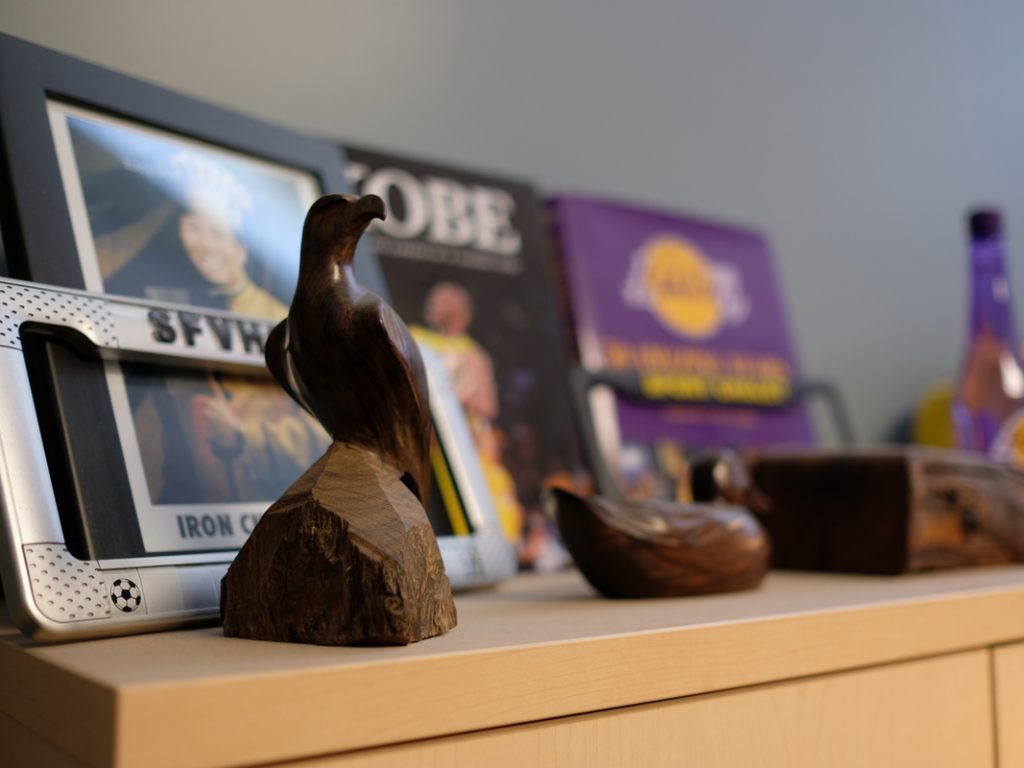 Clarence: (Laughs) That is awesome! Let's shift gears. It is my understanding that that Lighthouse's Anniversary is coming up. Lighthouse has changed a lot since it was planted from Evergreen 14 years ago. Looking back do you have any ministry memories or moments that you are particularly fond of?
Gavin: Great question. It would have to be our early years of youth ministry! (for those of you who didn't know – Gavin used to be the youth pastor in the early years of Lighthouse!) And those were the years where we had three, sometimes four, or five students who would come out on a Friday evening. And we always said, "Even if the Lord only brings one student, we're going to pour everything into that one student." It was kind of always our motto. Out of all the years, in those early years of youth ministry, we had only one Friday night that no students came… It was fun, being able to invest in the students. It was pretty informal too. We would meet at the Sawasaki's home and we would have some creative games. Sometimes we would cook things or sometimes we would just do different scavenger hunts.
Even if the Lord only brings one student, we're going to pour everything into that one student.
Clarence: Sounds fun!
Gavin: It was! And now, it is awesome to see some of these folks we invested in investing in others, like Justin Lee, who now serves in youth ministry!  Or even seeing Matt Sawasaki, who was another one of our students, take a leap of faith with his wife and move to Texas and be a part of our Plano Church plant.  All that said, youth ministry was difficult at times too. It's sometimes hard to understand the fruit of what's going on because you have to let time pass to see how the Lord has worked and is continuing to work in people's lives. But looking back, those are very fond memories I have of those years with those students.
I want us to continue to be a church that talks about Christ, treasures Christ, and lives for Christ.   
Clarence: Thanks for sharing! Pastor Gav is there anything on your heart for the church or any words of encouragement for our church family?
Gavin: First of all, I want to say, I'm just so thankful to God to be a pastor of the people here at Lighthouse. I really am. It is so wonderful to be able to see our church family seek after Christ. Not just going to church to check it off the to-do list but really wanting to worship Christ in everything. And that brings me – and I know for the other elders and staff here great joy. So that's one of the things that really comes to mind. And I think the second is to live a life that is different. To think about eternity. You hear that phrase a lot…"live a life in light of eternity". I want our church family to live that life – to leave a legacy where Christ is imprinted on everything we do. And this looks different for different people. But that's the beauty of how God has brought our church together- people in all different walks of life and in all different seasons of life striving to leave that imprint of Christ on everything that we do. I want us to continue to be a church that talks about Christ, treasures Christ, and lives for Christ.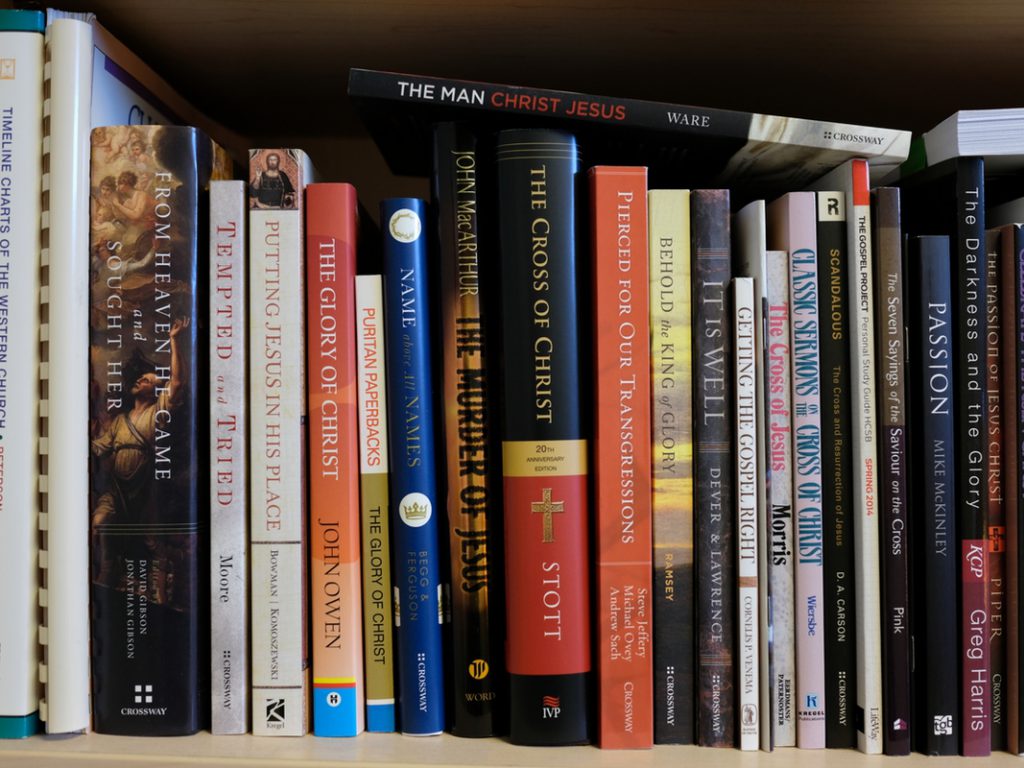 Clarence: Definitely. Is there any way our church family could be praying for you?
Gavin: Yeah… that I would have an undivided heart. That I would just love Christ each and every day; that I wouldn't let the busyness of ministry or life get in the way. It's much more challenging to live that out than it is to say. Pray for my heart, that I would have a heart of humility. That I would with great joy and great humility know that it's not about my kingdom, but that it's about building God's kingdom. Continue to pray for Lorraine and myself in our marriage and as we parent our daughters…that Christ would be the center of our home and our hearts. And that we, all together, would treasure Christ, savor, and seek him.
Clarence: Thanks again for your time Pastor Gav. One last question, to end on a more fun note, if you could pick, in a zombie apocalypse…
Gavin: (Laughs) OH boy! I hate zombies.
Clarence: (Laughs) You know we always need one apocalypse question! You can only pick 3 people from the staff. Who would those three people be? And Why?
Gavin: Oh man…three people…for sure, number one would be Kim. For multiple reasons: he's smart enough to get us out of things, we travel really well together- so we'd really be able to accompany one another and we have strengths and weaknesses that could cover for one another, and he's big enough to be able to fight off zombies and… I think I'm faster than him so I can outrun him (laughs).  Number 2. Hmmm. I'm going to take David Lee. David Lee is the MacGyver of our staff. And I'm sure…I don't think either of us know how to sail or even row a boat or anything like that, but I think zombies can't swim. So we need some kind of navigational skills, and I think David could solve those problems for us and get us to some kind of island where there are no zombies.
Clarence: I see you have thought about this before!
Gavin: (Laughs) Yeah. And third I really think I have to take Eufemio. To encourage us. I think he's the one person that would encourage us.
Clarence: Good choice! He would probably be the only person in a zombie apocalypse still smiling.
Gavin: (Laughs) Exactly. On top of that he'd be praying and encouraging. That's the three that I would go with.
Clarence: Thanks Gavin!
Gavin: Of course!