Passion Week (Devotional Resources)
Posted on March 26, 2018 by Chris Wong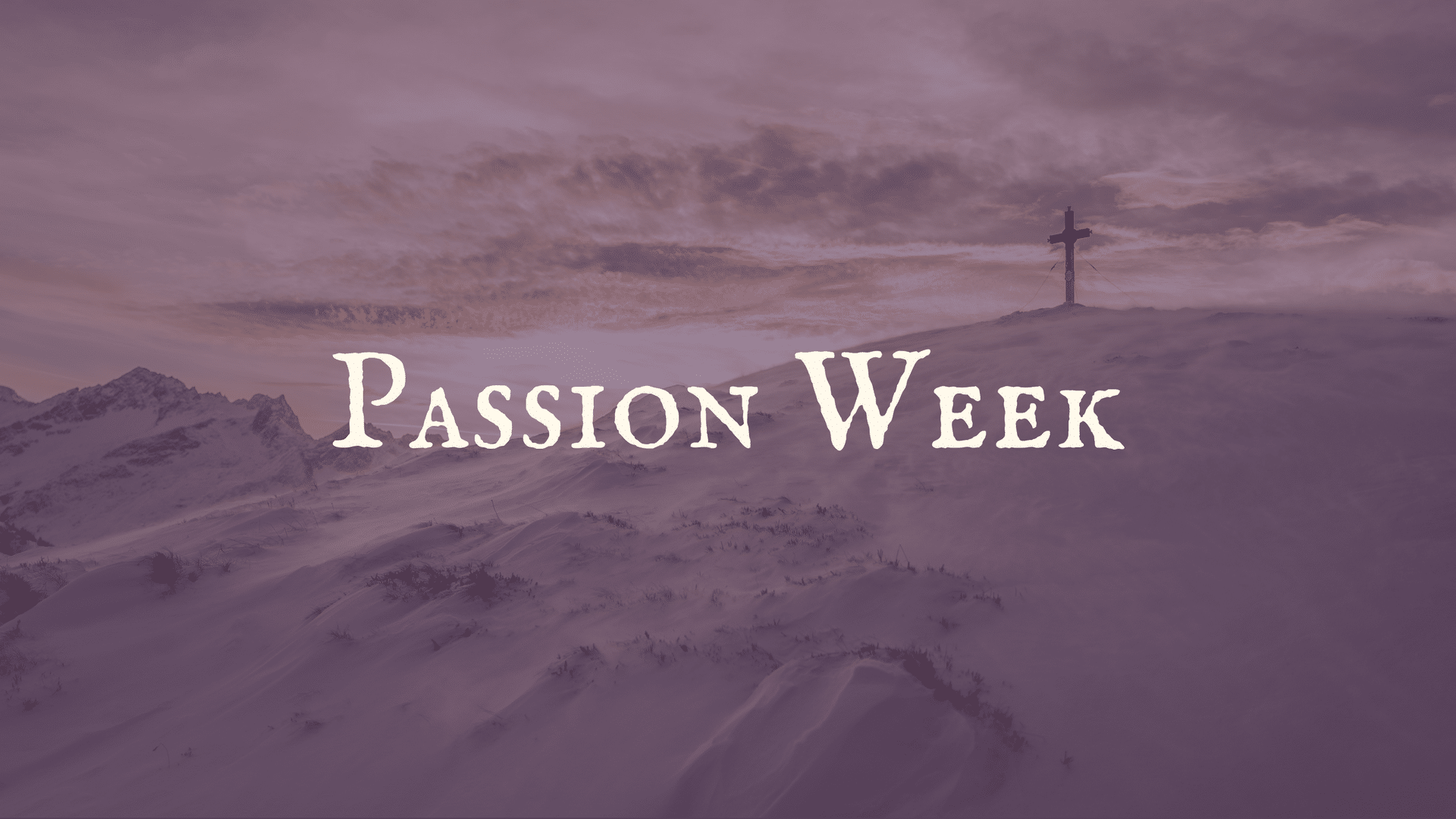 Passion Week (Holy Week) is a tradition that many Christians observe as a time to commemorate the suffering, death and resurrection of Jesus Christ during his last week of life leading up to the cross.  The word passion for Passion week does not come from the definition we usually associate the word to mean: strong or barely controllable emotion.  Rather, it is taken from the Latin word passio, which means suffering. 
The following reading schedule corresponds with the days and events of Jesus' Passion Week. Along with it are short videos of biblical scholars giving additional context and insight to each day's events.  Feel free to incorporate these resources in your devotionals this week as we approach Good Friday and Easter Sunday!
SUNDAY
Triumphal entry into Jerusalem, Jesus enters the temple area, Return to Bethany
Holy Week, Day 1: Palm Sunday
Sunday, March 29, AD 33.
Matthew 21:1-11, 17

Mark 11:1-11

Luke 19:28-44

John 12:12-36
MONDAY
Cursing of the fig tree, Clearing of the temple, Return to Bethany
Holy Week, Day 2: Monday
Monday, March 30, AD 33
Matthew 21:12-13, 18-19

Mark 11:12-19

Luke 19:45-48
TUESDAY
Reaction to wilted fig tree, Debate with religious leaders, Teachings in temple, Olivet Discourse on return to Bethany
Holy Week, Day 3: Tuesday
Tuesday, March 31, AD 33.
Matthew 21:20 – 25:46

Mark 11:20-21,27-33; 12:1-13:37

Luke 20:1- 21:36
WEDNESDAY
Sanhedrin plots to kill Jesus, Preparations for the Passover, Jesus continues daily teaching in Temple
Holy Week, Day 4: Wednesday
Wednesday, April 1, AD 33.
Matthew 26:3-5, 17-19

Mark 14:1-2, 12-16

Luke 21:37-38; 22:1-2, 7-13
THURSDAY
Passover meal, Washing of disciples' feet, Upper room discourses, Jesus prays in Garden of Gethsemane
Holy Week, Day 5: Thursday
Thursday, April 2, AD 33.
Matthew 26:20-46

Mark 14:17-26, 32-42

Luke 22:14-30; 39-46

John 13-17:26
FRIDAY
Betrayal and arrest (after midnight?); Jewish Trial: Annas, Caiaphas, Sanhedrin; Roman Trial: Pilate, Herod, Pilate, Crucifixion (9am-3pm), Burial
Holy Week, Day 6: Friday
Friday, April 3, AD 33.
Matthew 26:47-27:61

Mark 14:43-15:47

Luke 22:47-23:54

John 18:2-24, 18:28-19:42
SATURDAY
Day of Silence
Holy Week, Day 7: Saturday
Saturday, April 4, AD 33.
SUNDAY
Empty-tomb witnesses, Resurrection appearances
Holy Week, Day 8: Resurrection Sunday
Sunday, April 5, AD 33
Matthew 28:1-20

Mark 16:1-20

Luke 24:1-53

John 20:1-21:25