Coronavirus Response Updates
Coronavirus
Response Updates
June 12, 2020
Regathering Survey
We are grateful for God's continued grace to us during this season of COVID-19. While so much of life has changed, we have experienced the unchanging, steadfast love of God as we have pursued Christ, prayed faithfully, participated in community, and proclaimed the Gospel. As the leadership continues to consider what regathering in person may look like in the future, we want to benefit from your insight and wisdom as we try to make decisions that will best serve the Lord and our community. Would you please fill out this Regathering Survey so we can better know how you, our church family, are processing things? A couple of important notes:
Please submit one survey per adult
The surveys are anonymous
If you have any questions or concerns, please contact us at   info@lighthousesouthbay.org
April 16, 2020
Dear Lighthouse,
We hope that you had a blessed Easter reflecting on how Christ's resurrection gives us hope. This past Sunday also marked our fifth Sunday since we transitioned to doing services online.
Much has changed since our first online service, but the elders, pastoral staff, and deacons remain dedicated to serving you our church family. With the heart of service, we, the elders, want to share Lighthouse's action plan in response to COVID-19. The hope of this plan is to spur us toward a greater dependence and faith in Christ.
Lighthouse's Action Plan
As gospel-centered disciples, here's our four-part action plan so that we may grow a greater dependence on Christ through this pandemic.
Pursue Christ – "Set your mind on things that are above…" Colossians 3:2

Sunday Services and Lighthouse Kids
Truths for Troubled Times – Daily Video Devotionals for Adults; family worship guides; and a collection of Christ-Centered articles, book recommendations, and worship music.

Pray Faithfully – "…apart from me you can do nothing." John 15:4

Monthly Prayer Gatherings – 2nd Monday Evening at 7 p.m.
Truths for Troubled Times – Daily Prayer Requests
Participate in Community – "And let us consider how to stir up one another to love and good works…" Hebrews 10:24

Through Virtual Community — through Small Groups and Fellowship Groups (Youth, Beacon, Praxis, Branch, Vision)
Through Giving – Joyfully supporting Lighthouse's ministry with our finances
Through Compassion Ministry – Asking for help and seeking to help others by contacting info@lighthousesouthbay.org
Through Staying Connected  – Lighthouse Weekly, Stories of Grace and Instagram
Proclaim the Gospel – "… we are ambassadors for Christ…" 2 Corinthians 5:20

Invite friends and family to take Christianity Explored
Have Gospel conversations and use what is happening to point people to Christ
Be a good neighbor
Be generous
Contained within these four action points are all the ways Lighthouse is ministering to you. We hope this provides you with a clear plan on how to not only survive, but to thrive during this season.
Connecting with Us
One of the things the pastoral staff misses most about not being able to gather together on Sundays are the conversations. Each Sunday, there were hundreds and hundreds of conversations. These conversations were entry points into each other's hearts—to catch up on what happened the past week, to sharing a struggle or an encouragement, to be able to pray for one another.
Those conversations naturally happened as we were physically together. Though we are now physically apart, we still desire the same fruit from those kinds of conversations—to hear how you're doing, your encouragements, struggles, and prayer requests.
Lighthouse will continue to reach out, but we would also love for you to reach out to us. Send an email to info@lighthousesouthbay.org to connect with us.
Here are some ideas of what you can email about:
Let us know you've been attending online.
Let us know if you have a prayer request.
Let us know if you need assistance.
Let us know how we might better minister to you and our church family.
Send us a story of how God has been working in your life.
Sharing Christ
Finally, one grace of COVID-19 is that many of our idols have been stripped away. Many non-Christians are asking questions that ultimately lead to Christ. We hope that some are tuning in to Lighthouse's online services. We want to connect with them to start gospel conversations, so in the details section of the YouTube page is a link for our guests. This will lead to the "New to Lighthouse" page on our website where they can fill out a Communication Card and sign up for Christianity Explored.
We are so thankful for your support, your encouragements, and your prayers and we look forward to the day when we'll be able to physically meet again. Until then, we'll continue to do our best to serve you and point you to Christ.
His Grace,
The Elders of Lighthouse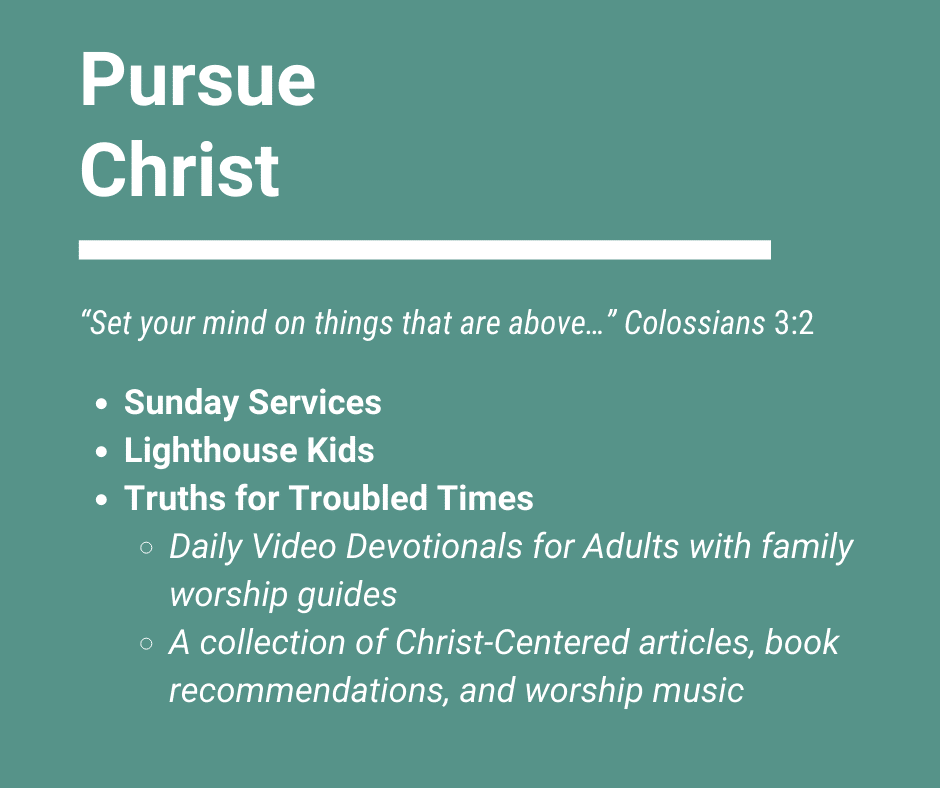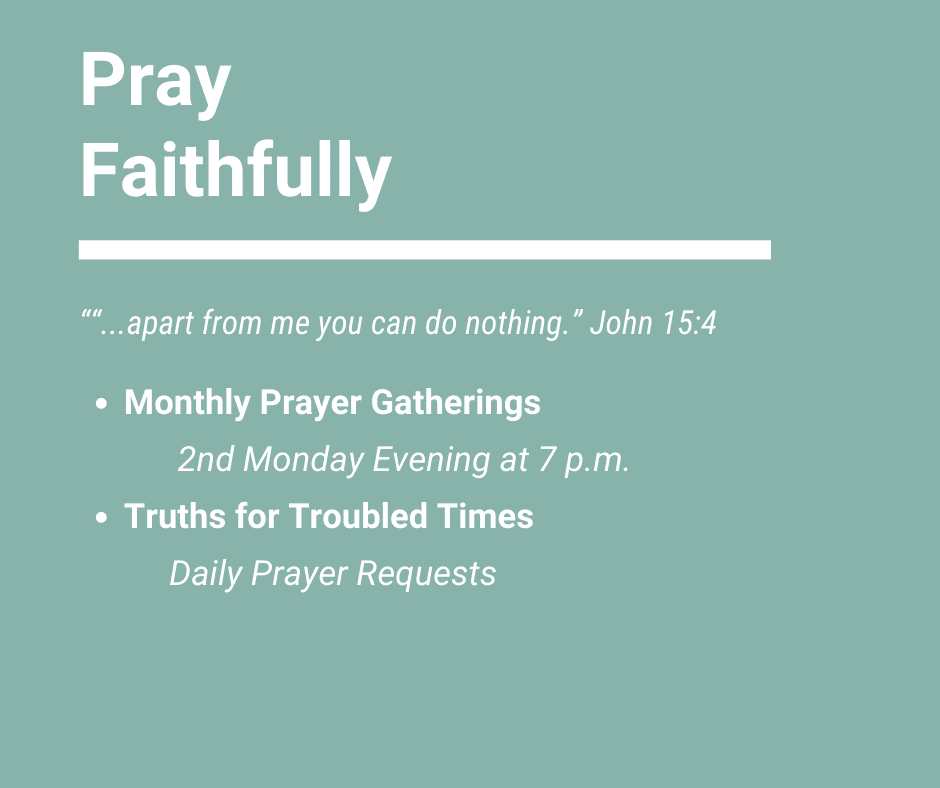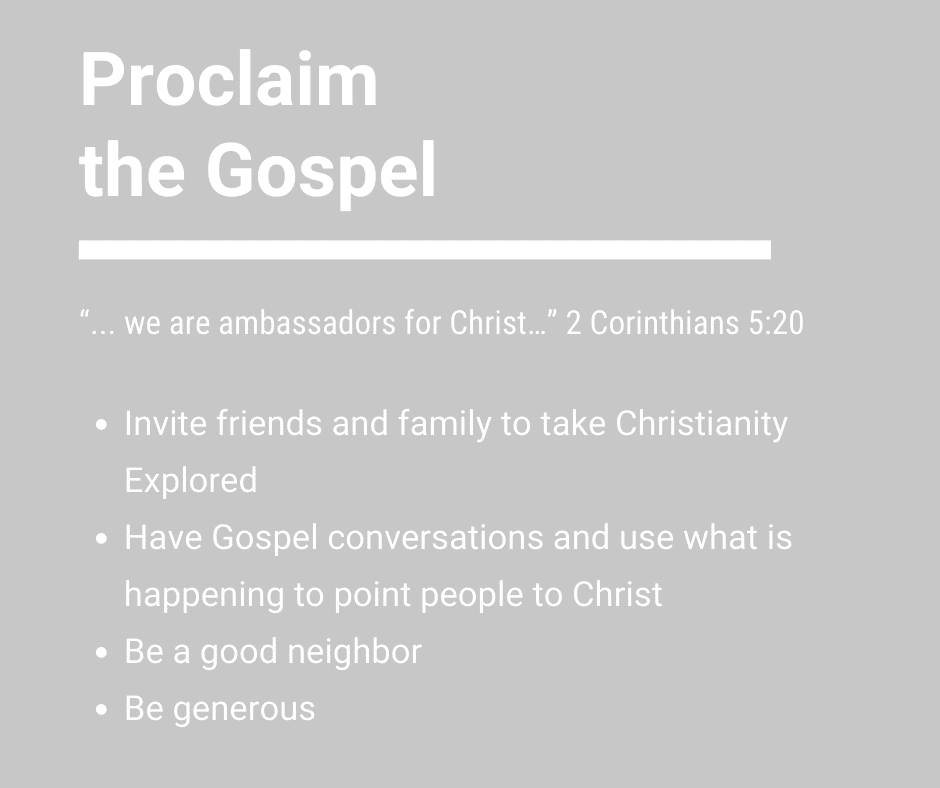 March 12, 2020
The last few days have led us into uncharted waters as COVID-19 has spread rapidly throughout our state. Out of a desire to care for our community and follow the recommendations of our government, the elders have decided to immediately suspend all of Lighthouse's in-person gatherings, including Sunday worship services, fellowship groups, small groups, sports ministries, counseling, and prayer meetings. This change will be in effect until further notice.
Thankfully, our identity as the church of Jesus Christ is not dependent on us being in the same room or even the same building. We are a family, joined not by a proximity distance of six feet, but by the blood of Christ, and that union is something that no "abundance of caution" can do away with. More than ever, we need one another as vehicles of God's Gospel grace.
We will continue to be the church family together, and we thank God that we live in an age where technology can allow us to connect to and love one another despite the restrictions of our circumstances. Specifically, Lighthouse will be using various online video streaming and online meeting tools so that we can worship and grow together during this challenging time.
Sunday Worship Services
Starting this Sunday, Lighthouse will be live streaming Sunday worship services on our YouTube channel at our regular services times at 9 AM, 11 AM, and 5 PM. These will be full length worship services with music and preaching, and you will be worshiping alongside your brothers and sisters! We are also planning on producing weekly Children's Ministry video content so your children will be able to worship as well.
Each week's service can be found at lighthousesouthbay.org/livestream or you can visit our YouTube Channel.
Fellowship Groups and Small Groups
Starting next week, our age-specific fellowship groups (youth, college, young adult, 30+ singles) and adult small groups will be transitioning to online gatherings as well. Each ministry will be contacting its members to provide more specific information.
"What about _____?" "How does this affect _____?"
We have created an FAQ page that will hopefully address some of questions regarding how these changes will impact specific ministries.
God Is Our Refuge and Strength
These feel like unprecedented times for us, but we know that God is sovereign over these times. He remains the king over all every atom in the universe, every person of our families, every instance of the coronavirus and countless other ailments, and every member of our church. He is not dismayed or distressed, and we find our comfort in him.
Psalm 46:1-17
1 God is our refuge and strength,
a very present help in trouble.
2 Therefore we will not fear though the earth gives way,
though the mountains be moved into the heart of the sea,
3 though its waters roar and foam,
though the mountains tremble at its swelling.
4 There is a river whose streams make glad the city of God,
the holy habitation of the Most High.
5 God is in the midst of her; she shall not be moved;
God will help her when morning dawns.
6 The nations rage, the kingdoms totter;
he utters his voice, the earth melts.
7 The Lord of hosts is with us;
the God of Jacob is our fortress.
What does it mean that Lighthouse is suspending its in-person gatherings?
As of March 12, Lighthouse will no longer be holding meetings where people are physically in the same space. This applies to Sunday worship services, children's ministries, fellowship groups, prayer meetings, special events, and counseling.
For this season we will use online streaming and meeting tools so Lighthouse can still worship and grow together.
When will Lighthouse resume in-person gatherings?
We are unable to provide an estimate as to how long this season will last. The leadership will continue to monitor the situation and follow the recommendations of public health agencies and the government.
How does this affect _______? Is _______ canceled?
We are assessing various church events on a case by case to determine whether or not they can be conducted in an online format or if they should be postponed to a later date.
Can I still meet with other church members?
Lighthouse's choice to no longer hold in-person gatherings extends to official Lighthouse ministry functions. Whether or not you choose to meet with other people on a personal level is a matter of your own discretion.
We want to fiercely obey the call to love one another, particularly in this season, and that love may manifest itself in different ways. At times, it may be loving to abstain from meeting in person to minimize risk of exposure, and at other times it may be loving to bring a meal to someone who could use some encouragement. In the end, we trust the Lord will provide us with wisdom and discernment to love one another in new and thoughtful ways.
How will live streaming work?
Sunday Worship Services
We will stream our Sunday worship services at our regular worship times of 9 AM, 11 AM, and 5 PM. You can watch the stream by visiting lighthousesouthbay.org/livestream or our YouTube channel. Video of each week's worship service will be available for on-demand viewing on Mondays.
While we may be separated physically, we are excited for the opportunity to be united spiritually as we sing, give, learn, and worship together!
Children's Ministries
Lighthouse Kids will be creating weekly video content so our children can worship and learn from God's Word.
What about my Fellowship Group/Small Group?
Our age-specific fellowship groups (youth, college, young adult, and 30+ singles) will continue to meet using a combination of live video streaming on YouTube and online meeting through Zoom. Please contact the ministry leaders directly for more information.
Youth – Eric Cai (ecai@lighthousesouthbay.org)
Beacon (College) – Francis Chow (francischow@lighthousesouthbay.org)
Praxis (Young Adult) – Chris Wong (chriswong@lighthousesouthbay.org)
Branch (30+ Singles) – Eufemio Magsombol, Jr. (eufemio@lighthousesouthbay.org)
Adult Small Groups will hold online meetings using Zoom. Contact Mat Pau (smallgroups@lighthousesouthbay.org) for more information.
How do I still give offering?
We highly encourage you to give online! We are still accepting checks and cash, but they must be mailed to the church office.
How can I shepherd my family through this?
Talk together. Set aside time to talk as a family about the developing situation. What is everyone aware of? How is everyone feeling about it? What are the fears, worries, concerns, anxieties that are present?
Look to Christ together. Remind your family that Christ is the king who rules over all. Talk about his love, his faithfulness, his sovereignty, his sacrifice, his empathy, his power, his plan.
Pray together. Seek the Lord in prayer. Pray for healing mercy, wisdom, Gospel ministry, the church family.
Sing together. Let the worship of your hearts work itself out into song!
Serve together. Brainstorm creative ways to love and serve others in this unique season.
We will also be producing family worship material that you can use to lead discussions with your family.
How can I get help?
The current atmosphere may introduce unique physical, financial, and spiritual challenges for some of our members. If you are a member that is facing a need that you think the church can help with, we want to know about it! Please contact us at info@lighthousesouthbay.org and let us know how we can help!
How can I help others?
We are eager to see how our church family will rise to the occasion and love one another in new and creative ways. If you are interested in helping our church family with any needs that may arise (meals, finances, grocery shopping, visitation, phone calls, etc.), let us know.
What do I do if I have been exposed to COVID-19? What do I do if I think I may be infected?
For all medical information, please consult your medical doctor. Out of love and consideration, please refrain from asking Lighthouse's medical professionals questions about personal health-related issues.
Regarding matters of health e defer to the recommendations of trusted public health organizations.